allied health
(occupational therapy assessments)
Experienced occupational therapists provide personalised assessments, interventions and training.
Timely, evidence-based assessments and interventions support an individual and a workplace in recovery and return to work. nb&a group prides itself on its professionalism and timeliness in completing these services:
Contact us today to discuss your specific objectives and requirements.
Task or Job Analysis

Task Analysis
Assess pre-injury and/or alternate duties and the capacity of an individual to complete each task.
Mental Health Job Analysis
Assess the social or environmental factors that may influence an individual with mental health concerns to return to work.
Graduated RTW Plans/Schedules
Guide the process of return to work with a focus on individualised, goal-orientated pathways.
Home-based Assessments
Activities of Daily Living
In-home assessment of functioning in personal care and general activities, with recommended actions to promote independence.
Home Modifications
In-home assessment and recommended modifications for enhanced safety and independence.
Ergonomic and Manual Handling

Worksite/Ergonomic Assessment
Assess workplace, work area and tasks in both office settings and industrial environments. Includes personalised modifications and/or education in correct work practices as required.
Tailored Training
Custom training for manual tasks performed in your workplace, or the general principles of ergonomics, for a healthier, happier workplace. This is delivered one-on-one or in a group setting.
Map of Occupational Therapy
We recently mapped out the details of our services and this visual came to light in relation to our approach to occupational therapy. An excellent representation, we wanted to share this map to show the comprehensive range of skills and tools used by our occupational therapists.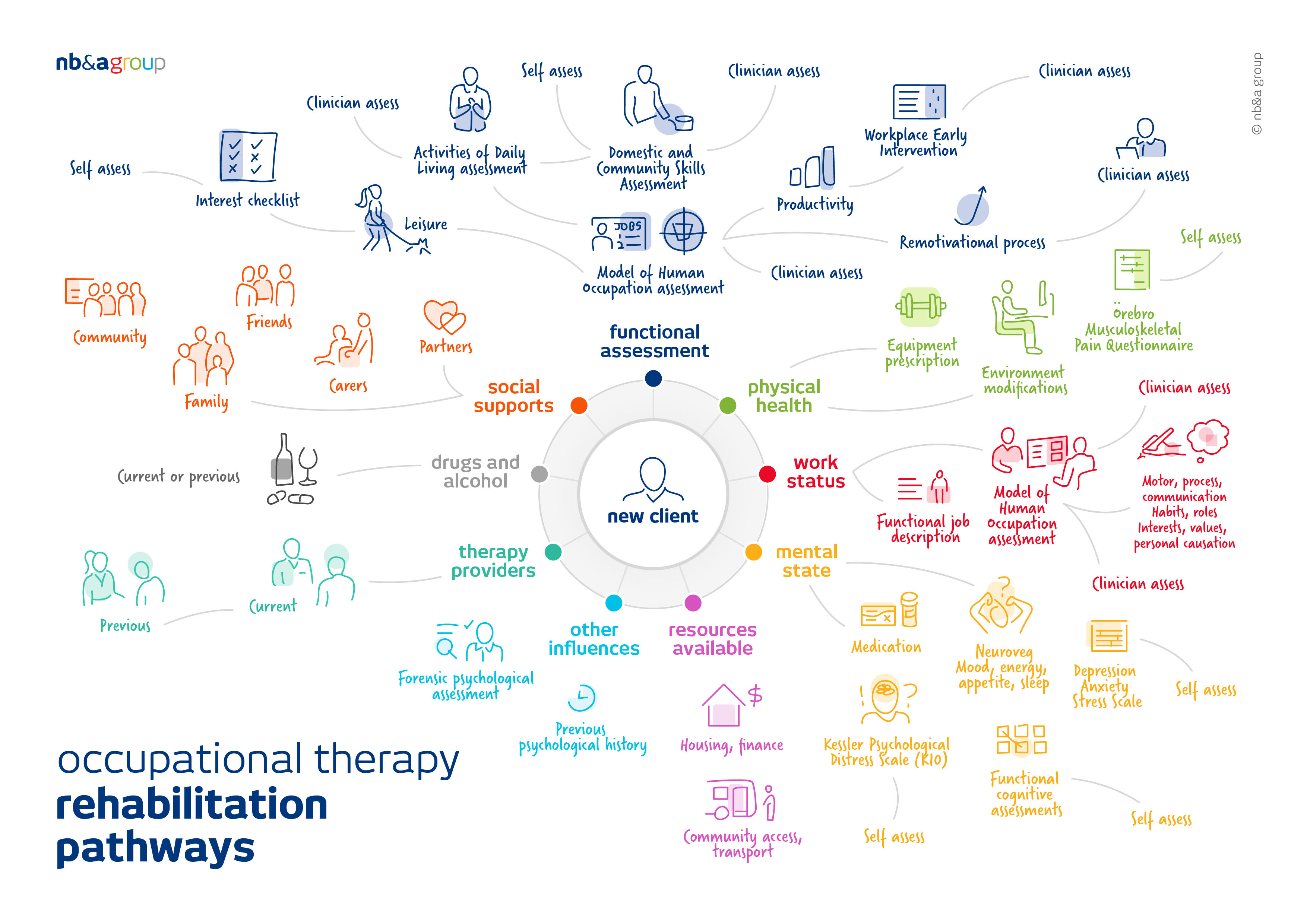 Occupational Therapists
In healthcare, few professionals have a more versatile and dynamic toolbox than occupational therapists. They possess a deep well of knowledge and a unique set of skills that can transform lives.
They are your partners in rediscovering your autonomy.
Occupational therapists use a variety of methods to harness the power of function to guide you towards a more fulfilling and independent life.
They understand emotional wellbeing is just as crucial as physical health.
An occupational therapist's toolbox includes a range of therapeutic modalities, from physical exercises to cognitive strategies, to ensure your mind–body connection is functioning as one.
They bridge the gap between people and their surroundings.
Occupational therapists redesign living and working spaces to suit the unique needs of each individual, enabling people to live and function to their fullest.
Function is at the centre of an occupational therapist's work and is defined as the action or activity proper to a person. Occupational therapists empower, inspire and instil a renewed sense of purpose in every individual with whom they work in order to restore or enhance function.
So, when you hear the term 'occupational therapist', don't just think of a healthcare professional. Think of a partner supporting you to regain proper movement and restore wellbeing so you can live a life of fulfillment, one functional step at a time.