mental health first aid training
Learning mental health first aid is as essential as physical first aid. Learn to spot the signs, provide help and guide a person towards support.
Mental Health First Aid (MHFA)
12-hour program
A mental health first aider provides initial assistance to an individual with a mental health problem (or crisis). This training supports people to spot the signs, have the confidence to provide initial help and guide a person towards support. It is about learning to listen, reassure and respond to the warning signs of depression, anxiety, psychosis and substance use, potentially preventing a crisis.
An nb&a group accredited instructor delivers this face-to-face training across two or more sessions to build confidence through a mix of case studies, group activities, presentations and discussions.
Note: Course content can be sensitive. It's not recommended for people being treated or recovering from a mental health problem.
Mental Health First Aid Refresher
4-hour program
Eligible accredited mental health first aiders are able to extend their accreditation by completing a refresher course to update and build on skills learned in the initial 12-hour mental health first aid course. This course contains new material and a take-home manual.
Blended MHFA
eLearning + 4-hour face-to-face training
Designed for workplaces that require increased flexibility in the delivery of training for their staff members, the Blended Mental Health First Aid in the Workplace course is a combination of online (eLearning) followed by and a half day face-to-face training. Course participants first complete the interactive self-paced eLearning component that presents an overview of mental health problems and mental health crises. The follow-on face-to-face training allows participants the opportunity to revise and consolidate skills in a group environment and to address mental health problems in the workplace in more depth.
Youth Mental Health First Aid
14-hour program
The Youth Mental Health First Aid course will teach you how to assist adolescents who may be experiencing a mental health problem or mental health crisis until appropriate professional help is received or the crisis resolves, using a practical, evidence-based Action Plan.
Teen Mental Health First Aid
3.5 hour program
With a focus on improved mental health literacy and early intervention, the peer-to-peer Teen MHFA course is for high school students in Years 7–9 and Years 10–12. It teaches participants how to recognise changes in a friend's thinking, feelings or behaviour that may indicate the presence of a mental health problem, how to offer initial mental health first aid support and how to connect them with a trusted adult.
Mental Health First Aid for the Suicidal Person
4-hour program
This face-to-face course teaches participants how to give first aid to someone who is feeling suicidal. The course shares international best-practice guidelines on how to intervene when a person experiences suicidal thoughts and behaviours.
Note: Course not recommended for people bereaved by suicide. Please access specific services at beyondblue.
Mental Health First Aid for Non-suicidal Self-injury
4-hour program
Based on guidelines developed through expert consensus of professionals and people with lived experience of mental health problems, learn how to assist a person who is engaging in self-injury.
Mental Health First Aid Skilled Workplace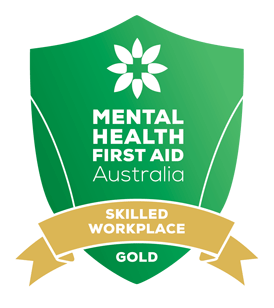 nb&a group partners with organisations to teach managers, supervisors and other employees how to provide early assistance to a co-worker with signs of a mental health problem (or crisis). Talk to us about training your staff and being recognised as an MHFA Skilled Workplace.
Upcoming courses
Youth MHFA - Face-to-face, 15 & 16 November 2023
We have now delivered Mental Health First Aid training to over 1,000 South Australia Police employees.
This is in addition to people from a wide variety of industries including:
Emergency Services
Disability support
Production—senior executives + production workers
Wineries
Telecommunications
Aged Care
Supermarkets
Insurance
Government agencies.
Contact us today to discuss your specific objectives and requirements.