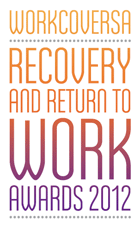 And the winner is...
nb&a rehab - Tim Cocks
Health and Rehabilitation Individiual Achievement Award
WorkCoverSA Recovery and Return to Work Awards 2012
Congratulations to Tim on his Individual Achievement Award. Tim is a hard working, passionate and innovative individual - the perfect example of what it means to truly love the work you do, together with the desire to exceed expectations.
While at nb&a group, Tim developed the Freedom to Move Pain Education Program, with the aim of de-threatening the pain experience by giving individuals a better understanding of their pain, enabling them to take back control.
nb&a rehab are very proud of Tim and the work he has done for the industry and his achievements.
If you would like to know more about the Freedom to Move Pain Education Program, please feel free to contact us.